San Antonio offers an array of the best Filipino food around. Take a culinary journey through this vibrant community and explore their unique dishes! From restaurants to ingredients, experience all that Filipino cuisine has to offer right here in San Antonio's very own paradise for fans of delicious food from the Philippines.
Short Summary
Discover the best Filipino food in San Antonio with seven top restaurants, a market and bakery, plus food trucks & pop-ups.

Try classic dishes like pork adobo or sinigang bangus and unique flavors like garlic rice (tosilog).

Get to know the local culture by exploring San Antonio's vibrant Filipino community!
Top Filipino Restaurants in San Antonio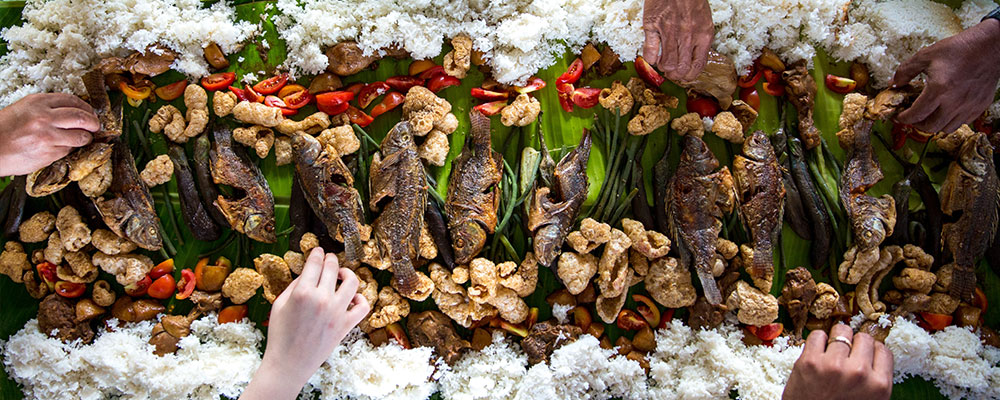 San Antonio is home to a range of amazing Filipino restaurants that boast flavorful and vibrant dishes. Our list includes the city's top seven spots for enjoying the best of these delightful foods, from sit-down dinners at Deco Cafe Filipiniana or Susie's Lumpia House, buffets like Lily's Philippine Bakery and Restaurant, fast food favourites at Jollibee or My ChockDee Market, right up to traditional Sari-Sari Filipino restaurant markets & bakeries. No matter what your craving is when it comes to Filipino cuisine in San Antonio, there will be something on this menu sure please you!
Jollibee
If you're looking for a Filipino fast-food experience, then visiting Jollibee in San Antonio should be at the top of your list. It's known as the McDonalds of The Philippines due to its delicious menu offerings that make it stand out from other fast food restaurants. From Chickenjoy and Jolly Spaghetti, to garlic rice called Tocilog, there is something here that will please even the pickiest palates!
Also on offer are Palabok dishes consisting of noodles with some delectable toppings. Shoestring fries, crispy sides, steamed rice and so much more. They also have a yummy Crispy Chicken Sandwich prepared according to their signature recipe sure satisfy cravings when hunger strikes between meals! Don't forget about breakfast either – trygarlic ricetoslog, one favorite among Filipinos!
Jollibee has convenient locations throughout San Antonio meaning accessibly won't ever be an issue. Overall, this fast food establishment deserves exploration all its own making it the perfect spot for anyone who seeks great taste Philippine cuisine!
My ChockDee Filipino Market
If you're looking for a great spot with all the Filipino food staples, My ChockDee is your go-to destination. The market in Universal City has an abundance of unique and authentic dishes from this cuisine as well as a buffet to sample multiple plates at once. Customers always leave raving about how good the quality of each item on their menu is along with attentive service they receive upon arrival.
My ChockDee also provides delicious takeout options like dinuguan, pork kare kare, and scrumptious lumpia – whatever it might be that's bringing you through their doors, whether meal or ingredients wise, there is something suitable for every customer!
Sari-Sari Filipino Restaurant Market & Bakery
Residents of San Antonio TX have come to love the delicious cuisine served up at Sari-Sari Filipino Restaurant Market & Bakery. With a menu catering to all tastes, it has something for everyone, from grilled pork skewers and fried lumpia to products in their grocery section that are specifically sourced from the Philippines. The friendly staff provide amazing flavors when you take part in this unique dining experience!
Adobo garlic fried rice and crispy pata certainly shouldn't be overlooked when eating here too – these two dishes stand out above them rest. Plus, if your sweet tooth is calling then head on over as they also offer an array of classic Filipino desserts right off their bakery shelves!
Everyone seems delighted with what's available at Sari-Sari Filipino Restaurant Market & Bakery which explains why it has become so popular amongst not just locals, but other members throughout the community who appreciate authentic foodie experiences like no other place around Rd San Antonio TX.
Visit Sari-Sari Filipino Restaurant Market & Bakery
Tabares Philippine Market
Tabares Philippine Market is a great place to experience traditional Filipino cooking. This market offers not only an array of convenience store items, but also a cafeteria-style cafe with delicious dishes such as shrimp soup and siopao that make for a quick yet flavorful meal. It has the perfect casual atmosphere to enjoy some genuine Filipino cuisine!
Aside from their eatery options, Tabares Philippine Market provides shoppers with all they need in order to recreate these flavors at home by stocking up on essential ingredients and other authentic products typically found in many popular Filipino recipes. So why not pay them a visit today? With so much variety offered here, there's no shortage of culinary possibilities when it comes time satisfy your craving for vibrant Filipino cuisine!
Visit Tabares Philippine Market
Lily's Philippine Bakery and Restaurant
Visitors seeking a truly authentic Filipino feast should look no further than Lily's Philippine Bakery and Restaurant. This inviting place serves up classic dishes such as sinigang bangus, pork adobo, pancit, lumpia and crunchy pata. Certain to evoke feelings of nostalgia for those with memories associated with them. Diners can also savor the flavor-rich kaldereta – an alluring stew that is sure to be a hit amongst connoisseurs of Filipino cuisine!
At Lily's you will discover there are plentiful options available that cater for your palate — so bring along friends or family members so you don't miss out on these delicious offerings from this cozy spot filled with good food at homely prices!
Visit Lily's Philippine Bakery and Restaurant
Susie's Lumpia House
Susie's Lumpia is located in San Antonio. House is the go-to spot for delicious Filipino cuisine. This buffet restaurant has been delighting diners since 1986 with its wide array of offerings including lechom kawali, pork adobo and fried lumpia. Customers are also treated to other Philippine specialties like rice porridge and delectable desserts such as leche flan or traditional rice pudding.
Owned by friendly proprietor Susie Frane, this popular eatery boasts a 4.5 star rating on Yelp. Clearly indicative that it's one of the best places to experience genuine Filipino food! If you're searching for real tastes from The Philippines, visiting Suse's Lumpia House should be your top priority!
Deco Cafe Filipiniana
If you're looking for an incredible spread of delicious Filipino cuisine, then the best place to visit is Deco Cafe Filipiniana in Leon Valley. This restaurant serves all your favorite traditional dishes like pancit bichon, longsilog and dinuguan as part of their scrumptious buffet selection. You can enjoy some delightful aromas with crispy fried lumpia and flavorful pancit Canton sure to make everyone happy at meal time!
Deco Cafe Filipiniana also offers a warm atmosphere making it ideal for gathering family or friends over mouthwatering food. With so many options available on the menu, from aromatic chicken soup to sisig rice toppings – there's something here that will fit even picky eaters' palates! So come by today if you are craving top-notch Philippine cooking: Deco Café, where satisfaction is always guaranteed!
Visit Deco Cafe Filipiniana (Temporarily Closed)
Unique Filipino Dishes to Try in San Antonio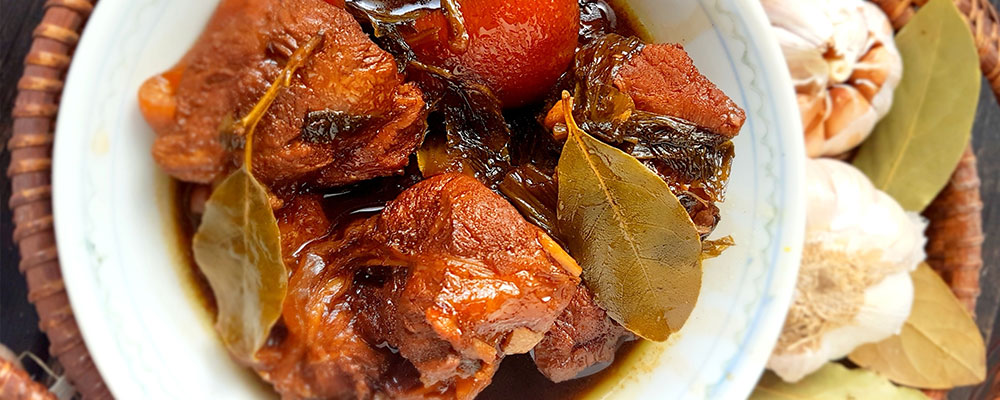 In search of the best Filipino food in San Antonio? Look no further! Three dishes that you have to try are garlic rice (tosilog), pork adobo and sinigang bangus, each showcasing a unique flavor combination from the amazing Philippines cuisine.
For those seeking out this delightful dining experience, check out Kabayan Kusina, Sari-Sari Filipino Restaurant Market & Bakery, Kain Na, Susie's Lumpia House, Sana All Authentic Filipino Cuisine, Deco Cafe Filipiniana or Gems Filipino Cuisine where these gastronomic delights can be savored for a once-in-a lifetime culinary adventure.
Garlic Rice (Tosilog)
If you're looking for the best Filipino food in San Antonio, garlic rice or tosilog is a must-try. It's composed of fried pork (Tocino), garlic Fried Rice (Sinangag) and an egg cooked according to preference (Itlog). To make this flavorful combination, white cooked rice is mixed with crushed garlic and oil resulting in a delectable garlicky flavor filled with crunchy bits from the added ingredients.
Though it may vary depending on what you like, tosilog can be combined vegetables such as carrots & peas or different types of meat like beef & chicken making it even more delicious!
Pork Adobo
Those visiting San Antonio must try the classic Filipino dish of pork adobo. Marinated in soy sauce, vinegar and spices before being simmered until succulent, this tasty specialty is regularly served over rice throughout Filipino cuisine. Customize your experience by adding potatoes, carrots or bell peppers to your meal – you can also switch up the type of meat used (chicken or beef are popular alternatives). To achieve maximum flavor with every bite, be sure to use quality ingredients and adjust levels of vinegar and seasonings as desired while simmering so that it's nice and tender.
Sinigang Bangus
If you're looking for the best of Filipino cuisine in San Antonio, then sinigang bangus is a must-try! This sour soup consists of milkfish cooked with tamarind and vegetables to bring together an unforgettable flavor. The dish provides great flexibility as well. Just about any vegetable can be used or protein swapped out if desired. No matter how it's prepared though, this traditional favorite will provide a delicious and satisfying mealtime experience.
For anyone wanting to sample some classic Filipino food while visiting San Antonio, they definitely should include sinigang bangus on their list, not only due to its fabulous flavors, but also because there are so many ways one could customize it according to your personal preferences.
Food Trucks and Pop-Up Events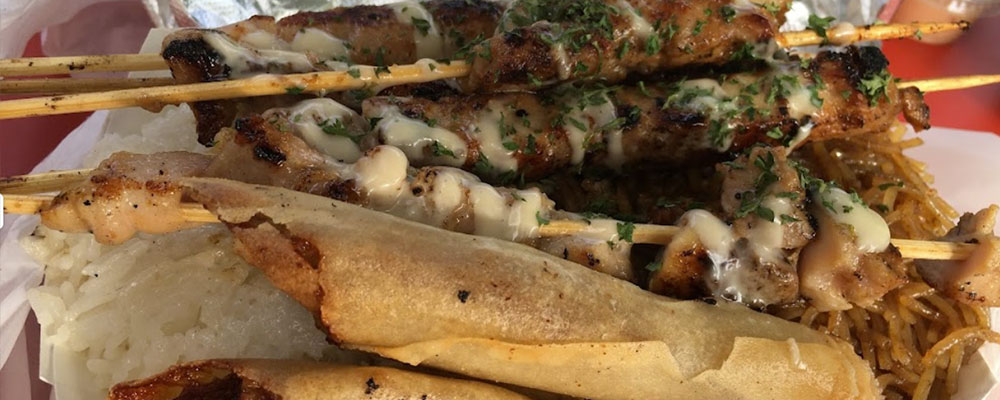 Image Credit: Marijoy Maringit
San Antonio is home to many great Filipino restaurants that offer a diverse range of flavors and cuisine. For those who want something different, Food truck events and pop-up gatherings are an exciting way to explore the unique dishes of Filipino culture. Whether it's Kain Na or Jeepney Street Eats, you'll find delicious fusion meals as well as some spice! Keep in mind these spots usually only accept cash, but come hungry because they serve up bigger portions than normal!
Aside from restaurant dining, there's lots more to offer when it comes to exploring Filipino culture through its gastronomy here in San Antonio with LumpiasRollin, Not Just Lechon and many more, all offering tasty treats for diners looking for their first foray into this type of cooking experience. With relaxed atmospheres perfect for sampling unfamiliar fare, why not stop by one today?
Filipino-Inspired Desserts and Beverages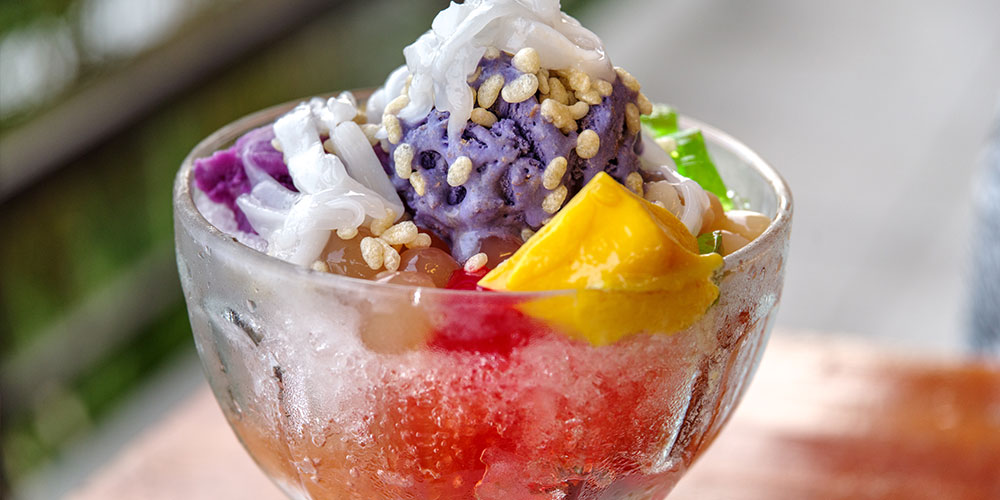 Exploring Filipino cuisine in San Antonio would be incomplete without trying the delicious desserts and drinks that come with it. The city has plenty of eateries providing these traditional treats, such as Sari-Sari Filipino Restaurant Market & Bakery or Lily's Philippine Bakery. From halo-halo (a colorful ice treat to calamansi juice from the Philippines), there is something sure to please everyone's sweet tooth! So, make some room for dessert during your visit. You won't want to miss out on all this flavorful fare.
Exploring San Antonio's Filipino Community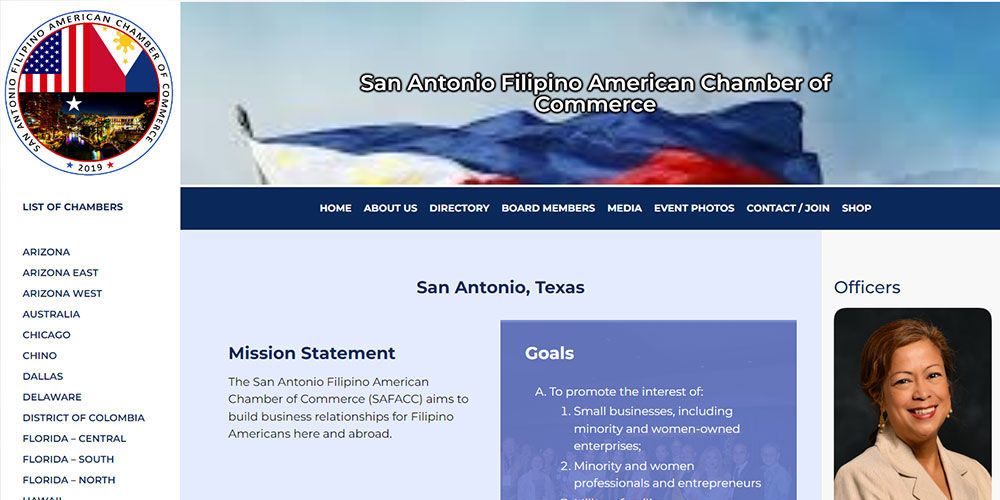 San Antonio, TX is an ideal city to experience all of the exciting culture and traditions behind delicious Filipino cuisine. Home to a strong Filipino community, many organizations such as the San Antonio Filipino American Chamber of Commerce exist for connecting with like-minded individuals passionate about celebrating this incredible food. There's also the opportunity through events and meetups hosted by these same organizations. One could possibly take part in meaningful conversations which extend understanding and appreciation of not just what makes up great dishes but even its origin – The Philippines!
So don't forget to have fun sampling some amazing eats throughout SA while learning more about those who contributed them – it will be worth your time!
Tips for First-Time Diners at Filipino Restaurants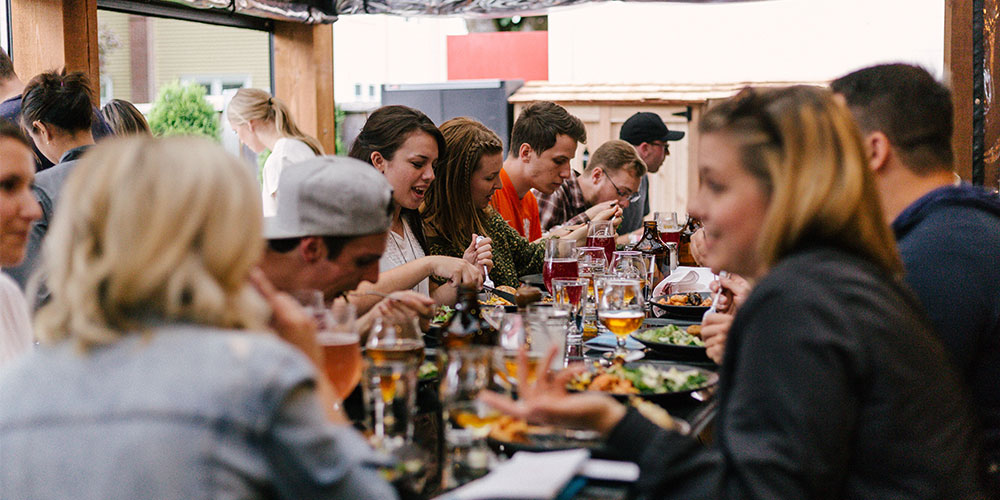 If you're just getting to know Filipino cuisine, visiting a restaurant specialized in it could be an amazing new experience. To make the most of your first trip there, we have some tips for navigating through the menu and enjoying all that makes this unique food so special.
To start off with something familiar or try out different dishes would both do well. Filipino cuisines vary widely, but by tasting them you can get accustomed to their flavors quickly! Ask around what people usually go for as they may give helpful suggestions when trying unknown foods.
Finally don't hesitate going into unexpected places – many times these spots provide some excellent dishes from across the Philippines' culinary culture! Enjoy exploring and see where deliciousness will take you on this journey.
Summary
San Antonio is a hotbed for Filipino cuisine, offering a wide selection of restaurants and dishes to sample as well as vibrant communal events. Whether you're just starting out trying the best of this type of food or are already an aficionado, this post can guide your exploration into discovering what San Antonio has in store with its amazing range of Filipino-inspired fare. So get together some friends or family – or even go it alone! -and let these flavors take you right back to the Philippines.
Frequently Asked Questions
What are some must-try Filipino dishes in San Antonio?
If you find yourself in San Antonio, why not indulge in a real taste of Filipino cuisine with garlic rice (tosilog), pork adobo and sinigang bangus? It's sure to be an unforgettable experience!
Where can I find Filipino food trucks and pop-up events in San Antonio?
In San Antonio, those looking for Filipino food need to look no Than Kain Na, LumpiasRollin, Not Just Lechon and Jeepney Street Eats. All four of these provide a variety of flavorful options via either their food truck or pop-up events!
Are there any Filipino-inspired desserts and beverages available in San Antonio?
Yes, there are plenty of Filipino-inspired desserts and beverages available in San Antonio, like halo-halo and calamansi juice.
How can I get involved in San Antonio's Filipino community?
Connecting with other Filipinos in San Antonio is easy – join SAFACC and FSA to become a part of the community, attending events or even just hanging out. This way you'll gain useful knowledge from your peers!
What tips do you have for first-time diners at Filipino restaurants?
Try some variety, ask the locals for suggestions, and embrace new flavors!
Get our latest foodie adventure, straight to your inbox!
Join the growing number of foodies
By submitting above, you agree to our privacy policy.